Welcome to the Shoot the Breeze Pull list! Where we let you know what we're excited about this week and other random news from the week.
Well starting off we have a BIG rumor about the new Venom movie. There has been talk that Woody Harrelson is going to be playing Carnage in the New Venom movie and it's untitled/undated sequel. It sounds like he isn't going to play a big part in this movie but a Venom/Carnage sequel with Tom Hardy and Woody Harrelson sounds amazing. Hopefully this is more than just a rumor!
Now onto the comics!
My Pull List 
(Not sure if I like this new cover, originally it was the main image on the article)
The Black Monday Murders #8 – All hail God Hickman! Finally returning after being delayed what feels like five times. This series is a masterpiece and everyone should be reading it.
Kill or be Killed #16 – Who is the other vigilante? Will Dylan get out of the nuthouse? Whatever the answers I'm pumped for what's going to be another fantastic issue.
Dark Fang #4 – Has Valla met her match? Or will she continue her quest to make humanity go green by any means necessary?
Port of Earth #4 – Looking forward to getting more answers about the aliens behind the port.
Star Wars: Darth Vader #11 – Fresh new story arc! This series has had a good start, hope it continues.
X-Men: Blue #21 – If one of the X-Men don't get venomized at some point during this series I will be very disappointed.
Weapon X #14 – Stupid, awesome, fun series. Enjoying it more than I thought I would.
Star Wars: Thrawn #1 –  Had this on last week's list, didn't realise it got delayed… whoops! But still excited for the best EU story to be canon again.
Editor in Chief of Shoot the Breeze James Portis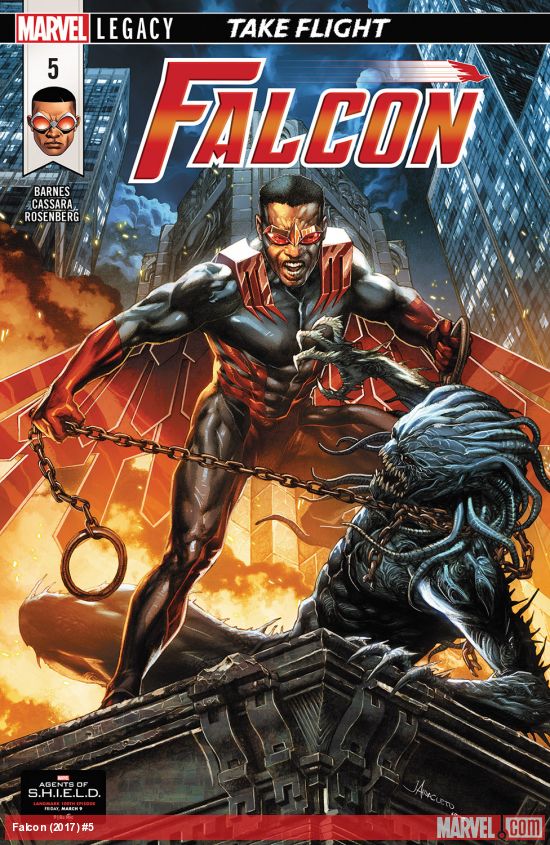 Falcon #5 – Looks to be wrapping up the current amazing arc as Rodney Barnes explores what's it like to be a changed man after Sam Wilson wielded the shield.
New Superman and the Justice League of China #20 – with New Super Man getting a new title and a full team, China has never been safer and enjoyable to read.
Sideways #1– start to an all new series from the DC Age of Heroes run and it's definitely worth the pick up
Titans #20 – the team is torn after the fallout from future Donna and their run in with the Justice League, can the Fab 5 (and Omen) pull it together?
Marvel Two in One #3 – If you're a Fantastic 4 fan, you should be reading this if you're not a fan, still an amazing series.
And here are some lists of everything else coming out this week! Let us know what you're looking forward to!