Welcome to the Shoot the Breeze Pull list! Where we let you know what we're excited about this week and other random news from the week.
To start off we had some scary news come in this morning that Kevin Smith suffered a massive heart attack last night.  But the famed director is OK, here is his instagram post detailing the situation. We're all hoping for a speedy recovery for him.
Now onto the comics!
My Pull List
Saga #49 – The ruler is back! Brian K. Vaughan and Fiona Staples' epic space opera is returning from it's break. Considering the end of the last arc was happy and everyone is reunited again I can't wait to see how they tear out my heart next! If you haven't checked out Saga yet go buy the first trade immediately and see why an Image comic regularly outsells both DC and Marvel.
All-New Wolverine #31 – New arc! With honey badger and deadpool looking like they're going to team up, I can't wait.
Imaginary Fiends #4 – The imaginary showdown between Polly and Charlie is about to go down!
Twisted Romance #4 – Last issue of what has been a solid anthology.
Darth Vader #12 – Don't love the reveal in the last issue. Needs more Jedi hunting and less Palpatine/Vader passive/aggressive scheming against each other.
X-Men: Blue #22 – Kinda loving this crossover. Venom and the O5 have a fun dynamic, and the symbioted X-Men are awesome.
Our Editor in Chief here at Shoot the Breeze – James Portis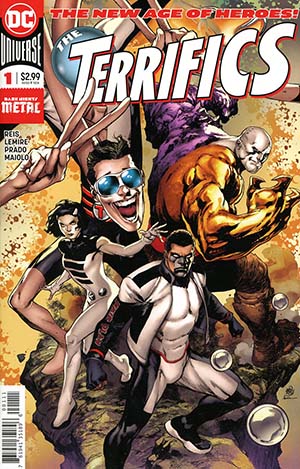 Top book of the week: The Terrifics #1 – The book from DC's New Age of Heroes we've all been waiting for. Mr Terrific, Plastic Man, Metamorpho, and Phantom Girl begin a new journey to save the universe. The totally Fantastic (wink wink) new series begins this week by Jeff Lemire!
Mera: Queen of Atlantis #1 – New mini series spinning out of the current rebellion in Aquaman, Meras gotta keep it together between Arthur, Corum Rath, and the return of Orm!
America #12 – Last issue to a pretty decent series. Hopefully Miss Chavez comes back with better direction some day.
Suicide Squad #36
Teen Titans #17
All New Wolverine #31
Black Panther #17
One more thing
X-O Manowar #12 – Aric is back on Earth. Finally!
Managing Editor and writer here at Shoot the Breeze – Christina Williams
Wonder Woman #41
The Silencer #2
And Fellow writer Paul Smerdon
Go Go Power Rangers #7
And here are some lists of everything else coming out this week! Let us know what you're looking forward to!